Fundoscopy allows retinal examination and is the most reliable way of diagnosing pathological lesions and identifying risk factors for possible retinal vision loss. Patients with diabetes must undergo at least annual examination of the background of the eye following dilation of the pupils with drops to control the retina to exclude diabetic retinopathy which is the most common cause of blindness worldwide at the age of under 50 years of age.
In addition, it is the basic examination of the evaluation of both the vessels and the optic nerve in serious conditions such as glaucoma.
Indications (indicatively the most frequent)

Detachment of the vitreous body
Myopia
Retinal detachment
Diabetes mellitus
Suspected tumor
Macular diseases
Systematic intake of medicines that can cause damage to the macula and optic nerve (hydroxychloroquine, tamoxifen etc.)
Glaucoma
Retinal vessel occlusion
Vitreous hemorrhage
Retinal dystrophies
Diseases of the choroid
Inflammations
Traumas
Postoperative control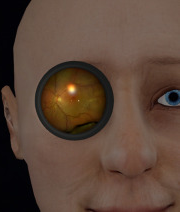 Procedure
After instilling a drop causing dilation of the pupil the patient places his head in the slit lamp seated and examined through a magnifying glass. The duration of the examination rarely lasts more than 5 minutes. After the examination it is strictly forbidden to drive for at least 6 hours. The use of sunglasses is extremely necessary due to the very intense photosensitivity after the examination.